Dialtone are often engaged to benchmark telecommunication services for clients as an annual condition of their Vendor contract. However in most cases benchmarking is not carried out in lieu of a proposed cost reduction or service improvement by the Vendor and rates are only then reviewed at the end of contract period sometime in 3-5 years.
An interesting example of this related to a large supermarket chain in New Zealand that contracted Dialtone Consultants to benchmark Voice (fixed & Mobile), Data, and Managed Services. For a benchmarking project we aim to include rates from a minimum 5 peer organisations. Each of these organisations will be comparable in size and industry to the client businesses, and selected from Dialtone's customer database of over 50 large organisations . The services and pricing from capable major telecommunications providers are used in conjunction with the peer comparisons. It is important to note that telecommunications contracts are agreed on a business model that takes into account the length of the contract. In this environment, there is constant downward pressure on pricing. This means that the initial contract price negotiated may appear expensive if the complete contract lifecycle is not taken into consideration. Dialtone's benchmarking model allows for these pricing changes, over the contract life cycle.
The result of this benchmark shows that at this stage of the contract life cycle with a monthly spend of $140,000 per month, our client was around 8% over the average contract price and around 18% over the Dialtone's recommended price for an organization at this stage of its contract life cycle. Best practice organisations that are in the process of signing new contracts at the moment will be paying on average around 25-30% less. To be fair to the Vendor, it would have been difficult for them to predict the pace of change and build them into contract price, given the current rate of change.
Overall Fixed and Mobile Cost Benchmarking
This benchmarking exercise indicates that that our client is currently in the third quadrant which is not currently within the expected overall market price. Dialtone recommended that:
Seek a fair overall price reduction for these services of around $25,000 per month or 18% on all benchmarked services, without any extension to the term of the contract.
Review a number of their single telephone line installations to ensure they are required.
Progressive continually review their options regarding the introduction of SIP trunking to leverage their investment in VoIP systems.
The DAS Benchmarking Model
Dialtone employs the DAS model since it incorporates all four key parameters, for fair and accurate benchmarking
The model is based on plotting the results of the various prices applied to the client's usage and rental configuration on a normal distribution curve. The curve is then split into four quadrants, that reflect the nature of any organisation, its approach to service delivery and procurement. To remain competitive with the larger mature corporate organisations, the telecommunications vendor needs to offer a pricing model that fit inside the second quadrant.
By its very nature, as the contract life cycle progresses, the client's costs will increase relative to the market and it will move slowly to the right of the curve. Therefore the DAS Model concludes that a client who is a mature organisation is competitively and fairly priced when they lie in the "Second Quadrant". Where they are positioned in that quadrant is also likely to be determined by their progression through the contract life cycle.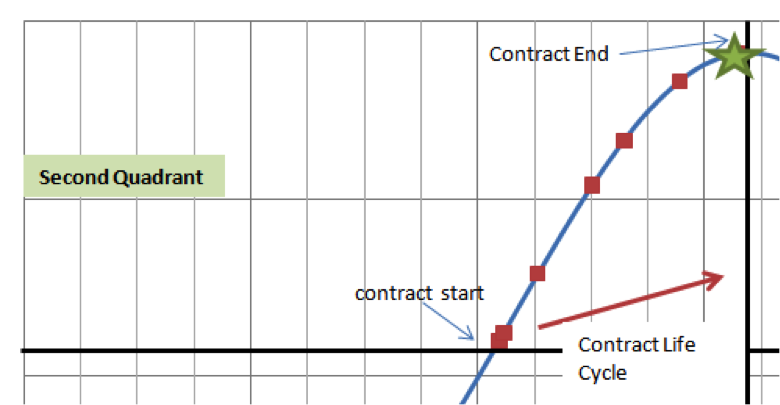 The Quadrant Model
The DAS Curve is separated into four quadrants. Each quadrant reflects the typical procurement and risk profile of an organisation.
Organisations that lie in the first Quadrant would typically be price driven and have the ability to provide greater levels of "in-house" support. They would be early adopters of new technology, and be willing to use 2nd & 3rd Tier carriers if necessary to achieve pricing goals. They would also source services from multiple suppliers across the sector.
Second Quadrant organisations typically follow best practice procurement processes and regularly review services. They want robust service delivery from a proven supplier that will not demand input from their own technical support teams. They look to build long term relationships with one or two main telecommunications suppliers. They are conscious of cost but recognise the value of service delivery.
Third Quadrant organisations have many of their traits of second quadrant peers. Typically they have strong relationships with their providers but tend to be drifting towards the end of the contract life cycle. They often would have longer contract terms in place and do not have robust independent review processes.
Fourth Quadrant organisations tend to be in long-term contracts. Often these arrangements have not been stringently reviewed as part of a structured procurement process.
Typically, a mature organisation following best practice procurement processes would lie in the second quadrant.